Park City Walking Guide 2nd Edition
By Beverly Hurwitz MD
You don't need skis, a bicycle or even hiking boots to enjoy Park City's magnificent mountain scenery or the vibrant history of this bawdy old western mining town. Park City Walking Guide describes 30 walking routes through urban and wild landscapes. Find maps and directions for exploring spectacular alpine terrain, a century and a half of local Americana, and the ever-evolving culture of a community that has morphed into one of the world's best-loved travel destinations. Even if you think you know Park City well, you'll never really know it until you walk it.
Most of the walks described herein are less than 4 miles (6.5 k) in length and are readily accessible by public transportation. Are you fit enough to amble around in these mountains? Are you wearing the right kind of shoes? This guidebook also offers practical information about fitness, feet, and footwear from the perspective of a seasoned physician.
Author Beverly Hurwitz, MD was born in Brooklyn, New York in 1948. She first came to Park City to ski in 1973 and she and her husband returned multiple times to visit before becoming full-time residents in 1990. Prior to attending medical school in 1977, Dr. Hurwitz spent nine years teaching public school health and physical education. Her medical career includes training in physical medicine, pediatrics, neurology, and acupuncture, and decades of clinical experience managing acute and chronic injuries. She's been walking around Park City with her dachshunds for more than three decades.
Contact Information: doxx@comcast.net  •  435-901-2783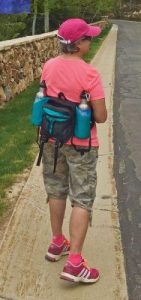 Print ISBN: 978-1-947459-51-9
LOC: 2020922747
Print Price: $13.95
Pages: 170
Trim: 5.5 x 8.5
DESIGN AND LAYOUT INFORMATION
COVER DESIGN
Beverly Hurwitz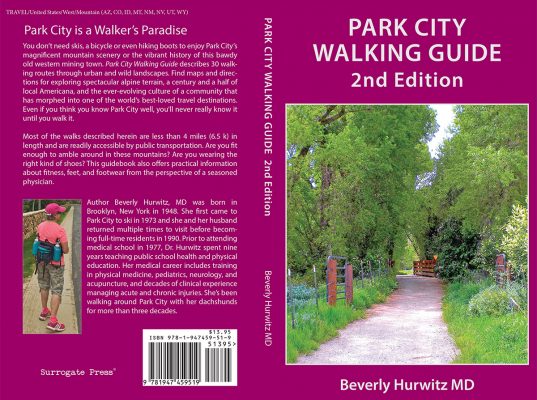 INTERIOR DESIGN
Katie Mullaly
Surrogate Press
katie@surrogatepress.com