PARENTING: WHAT WORKS WHAT WON'T AND WHY
By Sherry F. Walker
Sherry Walker offers a wealth of information on multiple aspects of child development – physical, emotional, psychological, and linguistic. She provides a roadmap to get to the heart of the inevitable conflicts, empowering parents to communicate clearly and calmly during any situation.
PARENTING: WHAT WORKS WHAT WON'T AND WHY includes many practical suggestions for setting boundaries, enforcing behavioral limits, and solving problems in productive ways. Age-appropriate activities and learning experiences are suggested for every stage, from birth to eighteen. An abundance of enlightening, real-life examples are presented, with enough humor and tenderness tucked in to lighten the load!
This insightful book will empower parents as they navigate the unpredictable and often choppy waters of the childrearing years. Here is an opportunity to transform the shared voyage into a smoother passage that is rewarding and enjoyable for both parent and child!
About the Author
Sherry Walker lives in Durango, Colorado where she writes children's books, makes pottery, and roams the countryside with her husband, Herb. Her children, biological and informally adopted, range in age from forty to fifty-five, and her grandchildren, from one to twenty. At seventy-five, she still greets every morning with curiosity about what the day will bring.
Sherry's long list of credentials include thirty-five years in private practice as a psychotherapist; Clinical Instructor and Supervisor in the Creative Arts In Therapy Department at Hahnemann University; Adjunct Professor in the graduate division of Chestnut Hill College; Senior Staff Therapist and Clinical Instructor at The Marriage Council of Philadelphia, also known as the Division of Family Study of the Medical School of the University of Pennsylvania; Instructor in the Department of Psychology at Fort Lewis College, and Child Development Specialist at The Child Development Center at Fort Lewis College; and a Clinical and Approved Supervisor Member of the American Association of Marriage and Family Therapists (AAMFT).
Print ISBN: 978-1-947459-13-7
LOC: 2018935587
Price: $12.95
Pages: 172
Trim: 6″ x 9″
Kindle ISBN: 978-1-947459-18-2
Price: $8.95
DESIGN AND LAYOUT INFORMATION
COVER DESIGN
Clint McKnight
cmck3240@gmail.com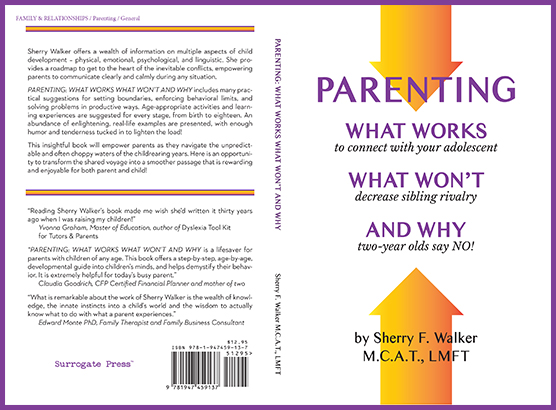 INTERIOR DESIGN
Katie Mullaly
Surrogate Press
katie@surrogatepress.com