More Than a Manicure
The Nail Files
By Carly Bennett Stenmark
Carly Bennett Stenmark is a working nail technician, business owner, and first-time author. Are you biting your nails yet? You should be because you are about to read some high-spirited, adventurous and sometimes delicate stories about life in and out of the sacred nail room.
Although she would never "clip, file and tell" she does communicate stories and feelings that connect and embrace us all as she pulls us into her checkered world full of brutally honest emotion, coupled with her occasionally wicked sense of humor and playfully mischievous soul. At times she takes us by surprise when she takes us by the hand as she throws caution to the wind, all the while building and working hard to maintain a devoted clientele. Carly is living proof that you can get here from there in spite of yourself!
High school drop out and self-taught nail technician, Carly Bennett, a 28-year-old divorced mother of four, hoping to escape an abusive relationship jumped into her $100 car, a tan rusted out 1962 Chevy Impala. She headed east into the mountains and began her uphill battle, armed with nothing but a nail file and an old tube of red Avon lipstick, and found herself in Park City, Utah.
Carly grabbed a newspaper and settled in a booth at the Mt. Air Café where the search began for a place to rent, a place to work and a fresh start for her and her family, including the cat. She handed her new landlords a post-dated check, drove back to the city and told her children they were all moving to the mountains!
Fast forward a few years and a handful of salons later, she documents her clients' stories, peppered with humorous anecdotes from a somewhat checkered past. Carly takes us by the hand and pulls us into her world, as it became an exciting adventure with her clientele. They laughed and cried together as their stories unfolded. It didn't take long for her to realize that caring for their souls was equally as important as caring for their nails.
Contact Information: cstenmark@me.com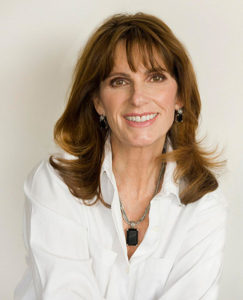 Print ISBN: 978-0-9860997-5-5
Price: $14.95
Paperback, 398 pages
Trim Size: 5.5" x 8.5"
Kindle ISBN: 978-1-947459-00-7
Price: $8.95
DESIGN AND LAYOUT INFORMATION
Cover Art
Gary Gautney
Cover Design
Katie Mullaly
Surrogate Press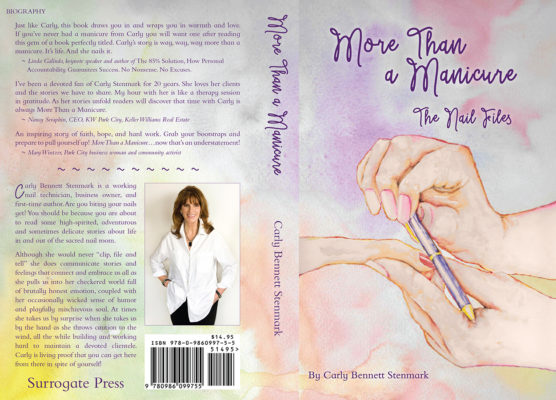 INTERIOR DESIGN
Katie Mullaly
Surrogate Press
katie@surrogatepress.com