I Found Myself in China
A Journey to What's Next in Life
By Joyce Brinton
Joyce Brinton struggles to find her passion and purpose after the last of her children leaves home for college. When a friend suggests they become teachers to young women in China, Joyce reluctantly agrees, only because she feels she has no better option. Alone and a long way from home, Joyce is forced to rely on herself without fear or self-judgment. Her struggles, triumphs and continued growth highlight her captivating journey to discovering her personal power and self-expression.
Extremely authentic and honest, I Found Myself in China shares Joyce's personal transformation from depressed empty-nester to strong feminine leader and role model.
If you're looking for a breakthrough to determine what's next in your life, then Joyce Brinton's I Found Myself in China is tailor-made for you.
Four decades ago, Joyce Brinton graduated with a Masters in Educational Psychology from Brigham Young University. At the end of grad school, she married, found a job at Utah State Mental Hospital as a counselor, and eventually started a family. Although she loved focusing on her husband and four children, Joyce forgot who she was, what she loved, and how to take care of herself.
I Found Myself in China is the story of Joyce's search and recognition of her divine self. By unveiling her passion, she steps into who she really is, and then uses her unique gifts to create a rich community of trust. Teaching others to connect with their own dreams, she not only encourages her students to move towards their own life goals, but how to achieve those goals beyond their expectations, as well.
Joyce has a private life-coaching practice utilizing the tools of muscle testing and energy healing. A mother of four and grandmother to nine, Joyce and her husband of thirty-six years, Steve, co-teach at the Muscle Testing Academy.
Joyce is available to speak to groups of all ages about her experiences and expertise in living life more fully. Readers and listeners are instantly comfortable with her, as they learn how to create visions of their own future.
Find out more about Joyce on Facebook at: Ifoundmyselfinchina or you can contact her directly at Ifoundmyselfinchina@gmail.com.
Contact Information: Ifoundmyselfinchina@gmail.com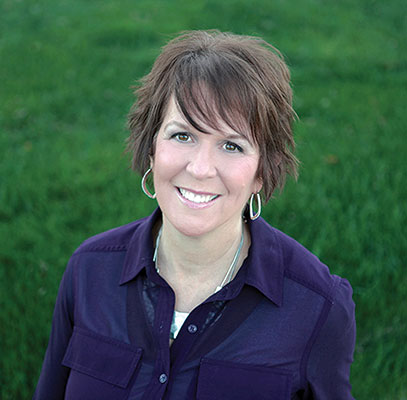 Print ISBN: 978-1-947459-03-8
LOC: 2017912211
Print Price: $14.95
Pages: 114
Trim: 6" x 9"
Kindle ISBN: 978-1-947459-11-3
Kindle Price: $5.95
DESIGN AND LAYOUT INFORMATION
COVER DESIGN
Danielle Cantin
dcantin7@gmail.com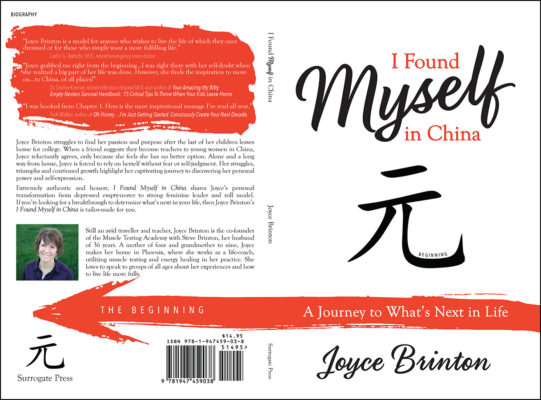 INTERIOR DESIGN
Katie Mullaly
Surrogate Press
katie@surrogatepress.com