Dutch the Dog: Secret Agent on Dusk to Dawn Patrol
By Sherry F. Walker
Durango, Colorado was a safer place indeed once Dutch the Dog assumed his official duties as a member of The National Secret Canine Patrol.
Dutch encounters a series of mysterious events in need of his immediate attention: four-legged creatures up to no good, a missing person, a home burglary, and even the dastardly plan of an alien invader! But these are no match for our canny canine!
Sherry Walker lives in Durango, Colorado with her husband, Herb. She is a wife, mother, grandmother, potter, and retired family therapist. Sherry has been playing with images that words can create and telling children stories for as long as she can remember, and now has the time to write them down. Most recently she has been doing this with the assistance of Evan and Kate Robinson.
This book is dedicated to her mother and her paternal grandmother. Both writers, they transmitted their love of language to Sherry at an early age. They saw words as objects with which to construct an endless variety of intriguing images and stories. In addition, they shared with her their invaluable insights into the perceptual world of children.
Print ISBN: 978-1-947459-17-5
LOC: 2018944581
Price: $12.95
Pages: 64
Trim: 8.5″ x 11″
DESIGN AND LAYOUT INFORMATION
COVER DESIGN
Clint McKnight
cmck3240@gmail.com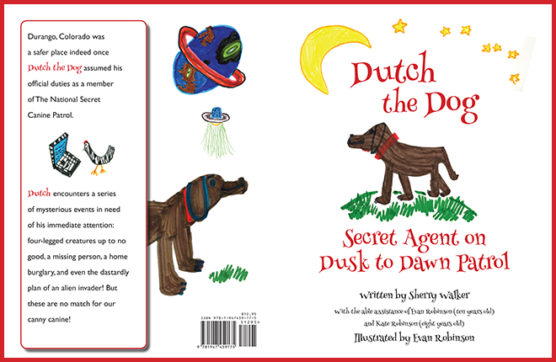 INTERIOR DESIGN
Katie Mullaly
Surrogate Press
katie@surrogatepress.com