Deadly Gratitude
By Lori Donnester

Tortured by the loss of his wife, Detective Don Layden isolates himself behind an emotional wall, until a case comes along that shakes him to his core. An axe-wielding murderer kills the wife of a Denver prosecuting attorney and Don has to find him.
In spite of an unsupportive, narcissistic police captain who insists the investigation focus on the widowed attorney's cases, Don and his partner, Luke, are convinced the killer is a heinous lunatic preying upon innocent Denver women; one of whom is Kate Fitzgerald. Spirited and defiant, Kate has such compassion for the bereaved families that she is determined to discover who is at the root of this terror before the killer strikes again. But does Kate's fortitude put her at risk? Don suddenly realizes his concern for Kate's safety goes beyond public service…a thought that scares him as much as this case.
As the clock ticks on, the killer gets bolder. Can Don, Luke, and Kate battle blood, blades and devil worshippers to solve this mystery before anyone else loses her life?
Lori Donnester started out life in Illinois and then traveled west to study ballet at the University of Utah. Deciding finance would be a better bet, she made the switch, but her creative genes encouraged her to study writing as well. It all worked out because today she is a newly retired financial controller, is writing full time, and recently won an award in a writing contest.
Lori remains steadfast in her conviction that her parents' prayers and positive thoughts helped her overcome a devastating bicycle accident from which doctors said she would never walk again. (Spoiler alert: She walks just fine today.) When her father passed, she decided to honor him with a story that both entertains and inspires, thus leading to her to write the suspense, crime novel, Deadly Gratitude.
In her spare time, Lori skis, hikes and enjoys life in the beautiful mountains that surround her Salt Lake City home.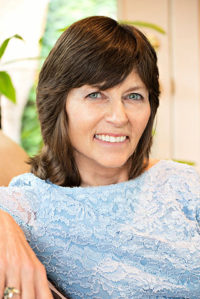 Print ISBN: 978-1-947459-10-6
Price: $11.95
Paperback, 312 pages
Trim Size: 5″ x 8″
Kindle ISBN: 978-1-947459-22-9
Price: $4.95
DESIGN AND LAYOUT INFORMATION
INTERIOR DESIGN
Katie Mullaly
Surrogate Press
katie@surrogatepress.com