Confessions of a Heroin Addict's Mother
A Memoir of Self-Reflection
By Eva Summerhill

Eva Summerhill's understanding of how one achieves success in life used to be summed up by the many clichés about hard work. "If at first you don't succeed, try, try, again." "Your hard work will eventually pay off." "Just put some elbow grease into it." That understanding changed drastically over time with her son's change in interests. The progression went something like this: family, play dates, private school, cello recitals, soccer games, experimenting with drugs, using harder drugs, wilderness therapy, rehab, heroin, relapses, arrests, homelessness, jail, overdoses. What happened to her child? Where could she have gone so wrong? How can she fix this? What about try, try again? Eva had one really important job to do and she had failed miserably. Helping him became her obsession; her sole focus. If he was not well how could she be?
Eva became an accidental writer. Through letters, journals, text conversations, and poems she created tools that she hoped would save her child, but they may ultimately have saved them both.
May the reader learn through Eva's mistakes, trials, lessons, and triumphs; how to go on living a meaningful life despite being faced with their child's addictions and their shattered expectations of what could have been.
Eva Summerhill lives in a cabin the mountains of Utah with an old Jack Russell Terrier and a mean rescue cat, named Eva. She borrowed the cat's name and her tenacity to write this difficult, honest memoir.
In pouring her soul into searching for answers to help her addicted son, Eva started journaling. She started looking at those writings, along with letters and other correspondence, and decided that a compilation of these works might give suffering parents some insight, and spare them some of the crushing pain.
Before she became and "accidental" writer, Eva had done everything from general contracting to teaching music, and a few random things in between. When she isn't working on recovery advocacy within her family and community, she is passionate about playing outside, gardening, cooking, painting, working on her cabin, and trekking in Europe.  She loves spending time with her two wonderful sons and extended family.
Visit her website at confessionsofaheroinaddictsmother.com to sign up for her mailing list, and for information and recovery resources.
Print ISBN: 978-1-947459-28-1
Price: $14.95
Paperback, 272 pages
Trim Size: 6″ x 9″
Kindle ISBN: 978-1-947459-29-8
Price: $7.95
DESIGN AND LAYOUT INFORMATION
COVER DESIGN
Katie Mullaly
Surrogate Press
katie@surrogatepress.com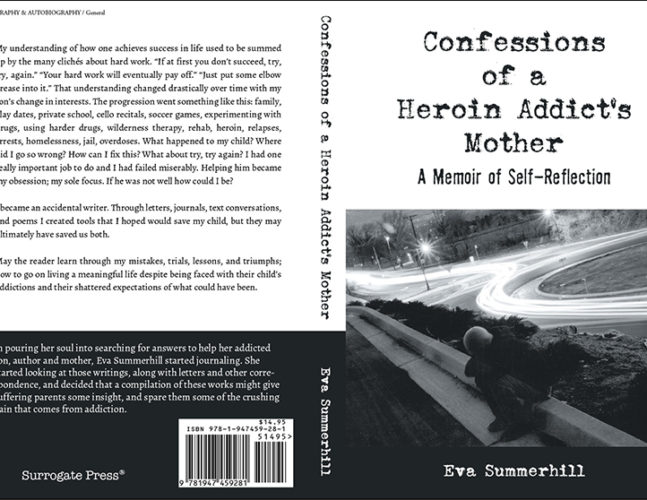 INTERIOR DESIGN
Katie Mullaly
Surrogate Press
katie@surrogatepress.com